Which Type of Built in Pool is Best?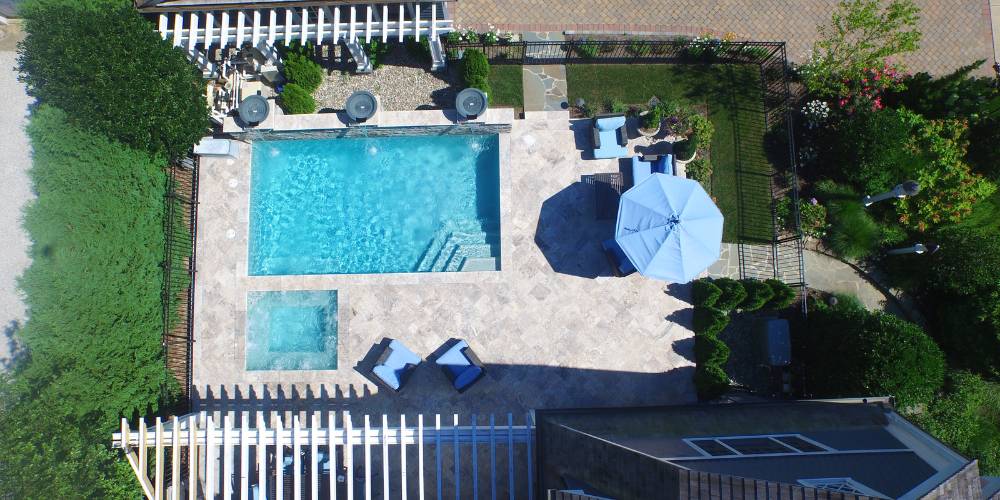 Whether you have limited space or just prefer a simpler look, there are plenty of ways to achieve your backyard swimming pool dreams. Here are a few tips to get you started:
Fiberglass pools are often considered the top choice for many pool owners because of their quick installation and low maintenance costs.
Fiberglass
Fiberglass pools are built in a controlled environment at a factory and then sent to your house ready for installation. This makes them much easier to install than vinyl liner and gunite pool types. They also tend to be more affordable.
When selecting a fiberglass pool, it's important to find one that is manufactured by a reputable company. Quality pools will have a good warranty and history of customer satisfaction. Additionally, you'll want to make sure your fiberglass pool is properly sized for your space. You don't want to oversize your pool and sacrifice deck space or have the pool be too small for you to enjoy it.
There are many different shapes and sizes of fiberglass pools. The best choice depends on what type of look you're going for, your budget and lifestyle. There are even a number of unique fiberglass pools that are shaped like features such as waterfalls or sunken living rooms.
If you're looking for something simple, consider a rectangular pool design. This design looks great in almost any backyard. It's not only a great place to swim, but it's also a perfect spot for socializing and relaxing.
Another popular option is a freeform fiberglass pool. This type of pool has a fun, playful look that is perfect for hosting parties or hanging out with friends. You can even add a jet system to turn it into an exercise pool.
Finally, there are also a number of lagoon-style fiberglass pools available. This design is similar to a standard fiberglass pool but it has a more natural, lagoon-like appearance that can be very appealing.
Compared to concrete and vinyl liner pools, fiberglass pools are the most durable. They are resistant to cracking and can withstand freeze/thaw cycles without any problems. Fiberglass is also non-porous, which reduces chemical use and maintenance.
Fiberglass pools are the easiest to install of the three main pool types. They can be installed in a fraction of the time that it takes to build a vinyl or gunite pool. They are also very energy efficient and require less water than other pool types. However, they don't last as long as concrete pools and may need to be resurfaced after a decade or so.
Vinyl
The cheapest type of inground pool to build, vinyl is a popular choice for many families. The bottom sits on a bed of sand while coping holds the top, and a vinyl liner is stretched over the entire pool to make it waterproof. Vinyl pools are also more malleable than fiberglass pools, allowing you to customize the shape, size and depth of your pool. But because the liner is susceptible to wrinkles and seams, it requires a little more upkeep than fiberglass.
A vinyl pool's interior can be finished with a variety of materials, including plaster and pebbles. Gunite pools, however, offer the most flexibility in interior finish options, including different colors, rocks and tiles. They are also more durable than vinyl liners and concrete. Gunite pools are also more expensive than vinyl, but they last longer and require less maintenance.
Like any pool, vinyl pools require a method for entry and exit. Depending on the size and depth of your pool, you may need more than one type of entry, such as ladders and steps. Ladders are common in deep pools, while steps are usually found in the shallow end of the pool. Ladders and steps both take up space in the pool, so they are important to consider when determining the size of your pool.
Because vinyl pools are so flexible in terms of depth and size, they are often used for recreational diving and water sports. Most people also choose to add a diving board, which is installed at the deep end of the pool. This makes the pool more fun and accessible to swimmers of all ages and abilities.
Another great advantage of vinyl pools is that they can be any depth, whereas fiberglass pools have limited depths due to the way they are constructed.
When choosing which type of pool to build, think about your long-term plans for the property. If you are thinking about selling the home at some point, the low-maintenance beauty of a fiberglass or vinyl pool will increase the value of the property. Conversely, a concrete pool can actually decrease the value of your home because it is a significant financial commitment for potential buyers.
Concrete
Unlike vinyl or fiberglass, concrete pools have a much more classic appearance. They're also one of the most durable materials for in-ground pool shells. A concrete shell can withstand heavy use, inclement weather, and normal wear and tear for decades without ever needing a liner. However, concrete pools are more expensive to build than other options.
Before construction begins, The Woodlands Pool Builders will need to finalize the plumbing and electrical components for your new pool. This can take time because all of these things need to be properly installed before the concrete can be poured.
After the plumbing and electric are in place, builders will create a frame for the concrete pool. The frame will be constructed with steel and other structural materials to make it rigid enough for the structure of your pool.
Once the framework is ready, a concrete mix will be poured into the frame to make the entire pool. The concrete will need to cure for a week or more. During this time, your water features and other additions will be added to the pool.
Concrete pools are made from a solid, steel-reinforced concrete that forms a shell around the piping and other components. The concrete can be coated with a variety of surface treatments to create the desired look. Concrete can be used to build a pool of any size or shape. However, building a custom concrete pool requires a detailed design for the builders to follow. A basic sketch on a napkin won't cut it.
The interior surface of a concrete pool can be coated in various surfaces, including plaster, tile, or waterproof paint. The concrete itself is hard to crush and can withstand 3,500 psi or more. This strength comes from a network of steel reinforcing bars, known as rebar, that run throughout the concrete.
Gunite, shotcrete, and precast pools are all forms of concrete used to construct swimming pools. The differences come down to how the concrete is applied, which affects its quality and durability. Regardless of which type of concrete pool you choose, you will need to consult with your pool designer before beginning construction to make sure the design meets local building codes and regulations. This step can be a long and drawn-out process, but The Woodlands Pool Builders is Texas's most trusted provider of noteworthy pool construction services. Click here if you want to convert your backyard into a stunning poolscape that will provide tremendous enjoyment, peacefulness, and everlasting memories for many years ahead.
Hybrid
There are a few unique swimming pool styles that fall into the hybrid category. While these pools are not as common as concrete, fiberglass or vinyl liner, they still have enough of a presence on the market to muddy the waters for pool owners as to what type of pool they actually own.
For example, a metal frame pool typically has a galvanized steel finish and both an inner and outer powder coating to offer powerful rust protection. These types of pools are built to last and can be used for many seasons. These pools also tend to be more expensive than a traditional mesh or solid cover but are much easier to drain and take down at the end of the season.
Another form of a hybrid pool is a hybrid-resin design. While it is still a metal pool (pool walls and uprights) the floor of this pool will be resin. The resin offers a high level of water resistance and durability that is similar to the quality found in an above ground concrete pool.
A hybrid-resin pool is a popular option for many people as it is able to offer the best of both worlds while keeping the price point of an above ground fiberglass pool at a lower level. This pool is very durable and requires little maintenance to keep it looking new.
The hybrid-resin style of a pool is one that is quickly gaining popularity among pool professionals. With labor in short supply, these pools are helping them meet more market needs that were not being addressed by traditional above ground fiberglass pools. This includes sloping backyards, harsh cold winters and even price point objections.
Regardless of the pool type you choose, it is important to remember that getting a pool is all about enjoying yourself. Whether that be relaxing in the warm summer sun or having fun with friends, a swimming pool is a great way to enjoy life in your own backyard. Whether you choose a traditional concrete, fiberglass or a hybrid pool, you can be sure that you will have the right pool for your lifestyle.
Whether you have limited space or just prefer a simpler look, there are plenty of ways to achieve your backyard swimming pool dreams. Here are a few tips to get you started: Fiberglass pools are often considered the top choice for many pool owners because of their quick installation and low maintenance costs. Fiberglass Fiberglass…
Recent Comments
No comments to show.